Take the quiz:
"WHAT RELIGION BESTS SUITS YOU?"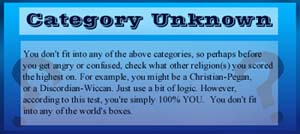 Category Unknown
You don't fit into any of the above categories, so perhaps before you get angry or confused, check what other religion(s) you scored the highest on. For example, you might be a Christian-Pagan, or a Discordian-Wiccan. Just use a bit of logic. However, according to this test, you're simply 100% YOU. You don't fit into any of the world's boxes.
Take the quiz:
"Which Vampire Clan Do You Belng To?"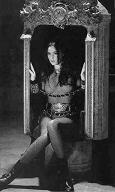 Ventrue
Good job! You have a reputation for being honorable, genteel and of impeccable taste (not to mention you're a jackass!). Clan quote: 'The guidence of the Damned is my burden to bear, not yours. You would do well, however, to ask yourself whether your unlife is one of benefit to the Children of Caine, or a detriment. I have lready made MY judgment.